ABOUT US
Tube Mill Manufacturer
Tube mills / Slitting Machine / Shearing Machine
Yang Chen Steel Machinery Co., Ltd. has been accumulating more than 30 years of manufacturing experience in supplying the stainless steel tube mill, high frequency pipe making machinery and its peripheral equipments. Until now, we've got outstanding reputations and widely patronages from domestic and overseas customers. We have a well experienced and seasoned staff capable of handling all of your challenging projects. Also certainly, we concern to meet our customers' requirement with effort.
...

read more
End-Facing Machine
End-Facing Machine for pipes and tubs, simple operating and speedy products. The steel plate welded bed are able to strengthen its stability and bearing capacity. The cutting die head moves fast to appropriate position by worm speed reducer and linear guideway. The chamfering of pipes with throwaway knives can be done with one step. The hydraulic system controls the vise mechanism. The conveyer system is combined by motor, gear box and single-beam rotary mechanism.

read more
Round Tube Polishing Machine
Round pipe polishing machine can be operated easily & safety. Easy to replace the polishing materials, save working hour, can increase the economic benefit & additional value of product. Application: Round pipe polishing machine is used mainly for polishing a large quantity of stainless steel round pipe.

read more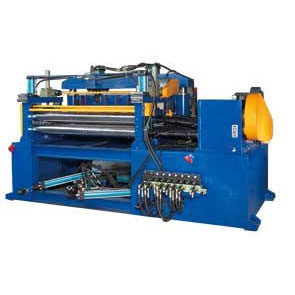 Automatic Steel Sheet Slitting Machine
Yang Chen's YC-250 auto slitting machine meets JIS standards and contains 17 machines including coil car for uncoiler, double cones type of uncoiler, coil pressure roll device, coil leveling machine shearing machine, 2 sets of loop pits, pinch roll with side guide, slitter (single slitting knife stand), 2 sets of scrap winders, tension pad, recoiler including spacers, coil car for recoiler, electrical system, hydraulic unit, pneumatic unit and safety fence.

read more